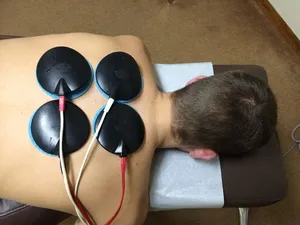 Electrical Muscle Stimulation is an exceptional way to help the body in the healing process. This is accomplished by sending a very small electrical current into the affected soft tissue injury or muscle spasm. The therapy utilizes this current in an effort to help reduce swelling, spasm and pain, therby promoting faster healing of the injured soft tissues. It does this by helping the body to release natural relievers of pain often referred to as endorphins.

This therapy works great when there is muscle spasm in your back. It works well in relaxing the muscles and allowing them to return to their normal state. Short therapy sessions are excellent at facilitating healing from acute and chronic pain.

Ask Us About Electrical Muscle Stimulation Today!